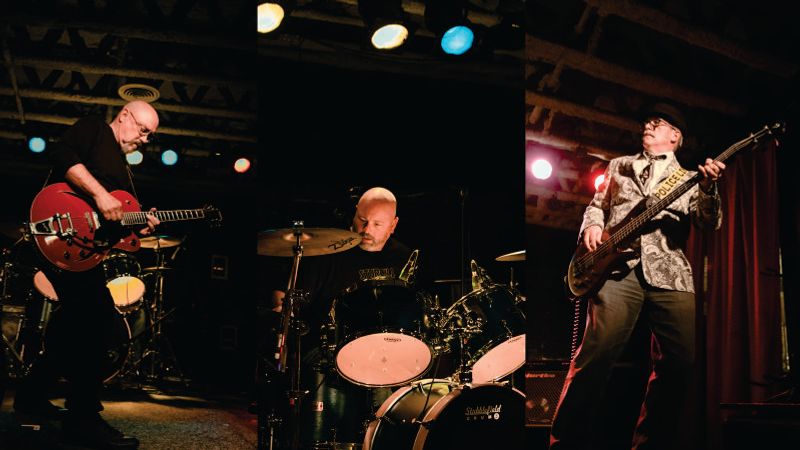 tobe fare
passion pain and promise, from a whisper to a scream
Originally a spinoff of Alt-Western Pioneers Ice House Road, Tobe Fare has come into its own as a 21st Century Alt-Rock Powerhouse, featuring the songwriting, "not-so-broken" vocals, and guitar mayhem of Gary Hawthorne (Modern Logic, Yesterday's Boy, Cowgomoo, Neon Kings, Ice House Road), the hard hitting drums and vocals of Adam JR Stoffel (Pale Blue Dot, Ice House Road), and the stylized bass lines and harmonies (and groovy suits) of Bryan Mac MacKenzie (Someday, JRB)
As the story goes, JR lured Gary back into music after several years of retirement, to play with IHR. When IHR went on hiatus, Gary had go out and do some solo shows to keep from going crazy. Gary called JR to grab some PA to play the first show. JR asked if he could just bring the PA and sit in on the set. Gary said "Cool… do you have a Cajon? I love Cajons…" JR said "I will."
Totally unrehearsed, arranged on the spot. JR's Cajon and Gary's guitar sonically complemented each other, and caused audience members to wonder aloud where the other musicians were… There was magic in that set. When asked "What is the name of your group?" "…uh… um… big?" referring to the sound. And BiG! was born as an acoustic duo. BiG! played weekly, wherever they could fit. Original songs with some fun old covers, – jacked up to 11 and played with honesty and fervor.
They had a passion for the blues and tried to fit in with that genre as much as possible, however, the Blues was not the end-all to the BiG! sound, and by the time they got into the Studio 607 to record the first BiG! record, they were drifting somewhat afield of the genre. The concept was that BiG! would release an Acoustic Album, and then over time, morph it into an electric Alt-Blues album, featuring Rob Jones (IHR) on Bass and Keys. Rob, though, moved out of the area, and Gary wasn't happy with the concepts and mixes of the acoustic album, and it was shelved indefinitely. JR wanted to make more noise than the Cajone allowed. Gary wanted to feed back again. BiG! wanted to make a ROCK record.
Enter Bryan Mac MacKenzie, an old friend of Gary's and occasional contributor to BiG! and IHR. He also wanted to make a Rock album (or any album for that matter) and agreed to jump in and hang on with the BiG! posse.
We had no idea that the name BiG! would be an issue with search online. But IT. WAS. TERRIBLE. After 2 years of complaints about not being able to search our music, a name change was necessary. Since we had been tagged "thebandbig" on social media, we decided to go with that as the name of the band, even though it SUCKED. Sucked with a capital S-U-C-K.
Then Omicron hit. We'd already weathered the other variants, by releasing a video single and a single, all to find out that we couldn't just change the name on "small" to thebandbig and be done with it. When Omicron canceled our one last gig, we voted. Do we move forward or just sit and spin? We opted to move forward. Re-arrange, re-write, re-record… and re-brand. The guitars will be a little more distorted and effected, and we will be bringing in a wee bit of synthesizer. The drums will be louder. And the Bass… well the bass will still be the bass. So now for your pleasure and ours, may we present -- Tobe Fare (pronounced to-be-fair) named after JR's favorite line in one of his favorite Canadian TV shows.